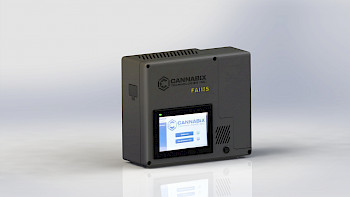 There are thousands of different molecules present in human breath, and those associated with recent cannabis use are often far from the most abundant compounds present, especially when other compounds, such as nicotine, are also consumed.  Please also see why breath correlates better with the peak THC impairment window. 
Cannabix has been on the cutting edge in technological innovation in overcoming the challenges associated with analyte detection in breath. When a molecule is ionized and exposed to a high electric field, its movement, or ion mobility, changes uniquely for each type of ion, based on its mass, shape, and charge.1 The Cannabix FAIMS device, based on high-field asymmetric waveform ion mobility spectrometry (FAIMS), capitalizes on this phenomenon, acting as a filter which allows a single type of ion of interest, in our case, ∆9-tetrahydrocannabinol (or "THC" the psychoactive component of marijuana that causes impairment) at a time to be isolated from background, detected, and potentially quantified. 
The Cannabix FAIMS device is designed to operate both independently or coupled in tandem directly to a mass spectrometer (MS), used in forensic labs. MS is considered the gold standard in toxicology for the analysis of drugs, poisons, and metabolites, due to its superior specificity and sensitivity. The highly selective Cannabix FAIMS device can potentially be employed in many related applications, either at the point of care or in the laboratory.  The Cannabix FAIMS device is used in combination with the Breath Collection Unit. The Cannabix FAIMS device is at the advanced prototype stage.