News
Releases
North Louisiana Forensic Science Center to host Cannabix Marijuana Breathalyzer Technology
January 5, 2023
Vancouver, British Columbia, January 5, 2023 -- Cannabix Technologies Inc. (CSE: BLO) (OTC PINK: BLOZF) (the "Company or Cannabix") developer of marijuana breathalyzer devices for law enforcement and the workplace reports that it has entered into a memorandum of understanding with the North Louisiana Criminalistics Laboratory (NLCL) to host the Company's technology for detection of ∆9-tetrahydrocannabinol ("THC") in human breath. The Company's proprietary laboratory-based marijuana detection equipment (as described below) will be used to analyze and confirm THC in breath samples captured in the field. In December, Cannabix delivered its MS Breath Sampler instrumentation to the Forensic Science Center in Shreveport, LA. Scientists will now be able to confirm THC in breath samples from various field studies at the Forensic Science Center's state-of-the-art facility. The Company's MS Breath Sampler is a new, simpler and effective way to test and confirm for THC in breath. The North Louisiana Criminalistics Laboratory, based in Shreveport, provides forensic science services in the areas of drug chemistry, DNA analysis, firearms examination, and forensic toxicology.
Joseph Jones, System Director at the NLCL, stated the following, "We are very pleased to be providing space within the Forensic Science Center for external vendors who are pursuing similar interests to our own efforts towards criminal justice and forensic science. We look forward to collaborating with Cannabix Technologies and housing their instrumentation as they work with individuals and groups across the country."
Rav Mlait, CEO of Cannabix stated, "We are very excited to have our first installation of our MS Breath Sampler at the North Louisiana Criminalistics Laboratory. This technology is a major leap forward in laboratory analysis procedures for THC in breath samples. The Cannabix system requires no pre-preparation of samples and samples can be processed in under a minute. Furthermore, Cannabix has built a proprietary system that will allow for lab confirmation of breath samples from our FAIMS point of care system. The Company is seeking additional laboratory collaborators and welcome such interest."
The Company's handheld Breath Collection Unit ("BCU", Fig. 1) and newly developed laboratory "MS Breath Sampler" (Fig. 2) are being used together to provide a new method for drug detection that complements gold-standard mass spectrometry (MS) and significantly simplifies laboratory analysis methods, reduces sample turnaround times (thus minimizing operating costs), while maintaining sensitive, precise results. By comparison, existing and legacy breath and saliva testing procedures require several sample extraction and preparation steps prior to analysis, and analysis itself can take from 1 - 3 hours per sample. This is expensive and impractical. Also, existing and legacy breath and saliva testing procedures tend to have inefficient, time-consuming collection methods, and recoveries are still often poor. Cannabix instrumentation is designed to be easy-to-use and seamlessly interfaced with techniques that toxicologists are already familiar with, requiring minimal training by all users.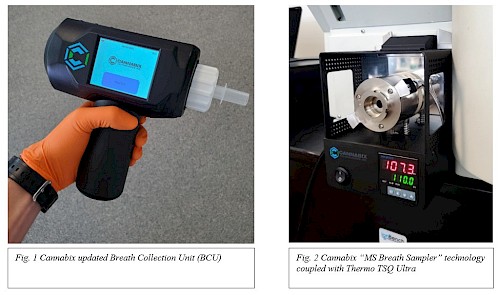 The Company also reports that it has ended its license agreement with UBC and will move forward with its related device development using proprietary methods.
Disclaimer: 
The information in these press releases is historical in nature, has not been updated, and is current only to the date indicated in the particular press release. This information may no longer be accurate and therefore you should not rely on the information contained in these press releases. To the extent permitted by law, Cannabix Technologies Inc. and its employees, agents and consultants exclude all liability for any loss or damage arising from the use of, or reliance on, any such information, whether or not caused by any negligent act or omission.