News
Releases
Cannabix Technologies Releases New Images of Marijuana Breathalyzer Prototype
April 20, 2015
Vancouver, British Columbia, April 20, 2015 -- Cannabix Technologies Inc. (CSE: BLO) (OTC PINK: BLOZF), developer of a hand-held Cannabix Marijuana Breathalyzer for law enforcement and the workplace, is pleased to report the release of the first publicly available images of its marijuana breathalyzer Alpha prototype and an updated video presentation of its Cannabix Marijuana Breathalyzer. Media files and video that show the design and features of the prototype are available for online viewing at cannabixtechnologies.com.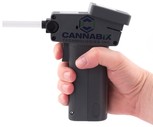 The Alpha prototype images will also be showcased at the Marijuana Investor Summit and Business Expo (http://www.marijuanainvestorsummit.com) on April 21-22, 2015 in Denver, Colorado, at Booth 308. The Alpha device testing is well underway with medical marijuana users. The objective of the testing is to maximize THC sensitivity, detection and reliability of the device for use as a roadside or workplace drug impairment tool. The Company is developing a Beta version for trial testing with external organizations.

Kal Malhi, President of Cannabix Technologies stated, "We have made good progress with our internal testing of the Alpha version of the marijuana breathalyzer prototype. In particular, we have been working to optimize breath flow mechanics in the device by testing a range of different materials and air chamber designs. There have been significant changes in the look and design of the device since our first engineered renderings; we expect this to continue as we work on developing our Beta version. We look forward to meeting investors, media, government officials and industry participants in Denver."

We seek Safe Harbor.
Disclaimer: 
The information in these press releases is historical in nature, has not been updated, and is current only to the date indicated in the particular press release. This information may no longer be accurate and therefore you should not rely on the information contained in these press releases. To the extent permitted by law, Cannabix Technologies Inc. and its employees, agents and consultants exclude all liability for any loss or damage arising from the use of, or reliance on, any such information, whether or not caused by any negligent act or omission.