News
Releases
Cannabix Technologies Files Contact-Free Breath Patent Application and Updates on Development and Certification Plans
May 3, 2023
Vancouver, British Columbia, May 3, 2023 -- Cannabix Technologies Inc. (CSE: BLO) (OTC PINK: BLOZF) (the "Company or Cannabix") developer of breath testing devices for law enforcement and the workplace reports that it has filed an International Patent Application ("PCT") titled, "Contact-Free Breath Analysis Device and Method" (PCT/CA2023/050409). This PCT application was the next step in converting the Company's provisional patent filed in 2022 related to contactless breath sampling technology. This PCT covers new innovations and intellectual property related the development to the detection of volatile organic compounds (VOCs) without the use of mouthpiece or straws.
Development and Certification Plan for Contactless Alcohol Breathalyzer ("CAB")
The Company has developed its CAB technology for workplaces (a wall-mounted version, see Figure 1) and an in-cabin vehicle version (Figure 2). Cannabix commenced pilot testing of its workplace CAB with Montana based Friedel, LLC ("Friedel Clinic") in March 2023 and the device is preforming well with over 300 breath samples taken thus far. Due to the encouraging usage results and unique market position of the CAB device, Cannabix has begun efforts to build a commercial workplace CAB unit for certification. The CAB device joins the Company's portfolio of marijuana breath testing technologies under development.
The Company has received strong interest from the U.S. and Australia for development and commercialization of a CAB wall mounted workplace unit targeted for small to medium sized enterprises (SME's). Alcohol is still the number one threat to workplace safety in the U.S., however more workers are testing positive for marijuana than ever before (1). An increasing number of employers are taking proactive measures to safeguard their workers and their operations by implementing alcohol testing procedures. Workplace testing instances typically include random testing, reasonable cause testing, pre-employment testing, pre-promotion testing, post-incident testing, and return-to-work testing. The wall mounted CAB would be targeted for all of the above testing instances, and would be especially effective with pre-access alcohol testing before and during work hours. Furthermore, the device could be used in bars, restaurants and hotels and a whole host of other targeted locations and organizations. Video of CAB can be seen at https://cannabixtechnologies.com/technology/contactless-alcohol-breathalyzer/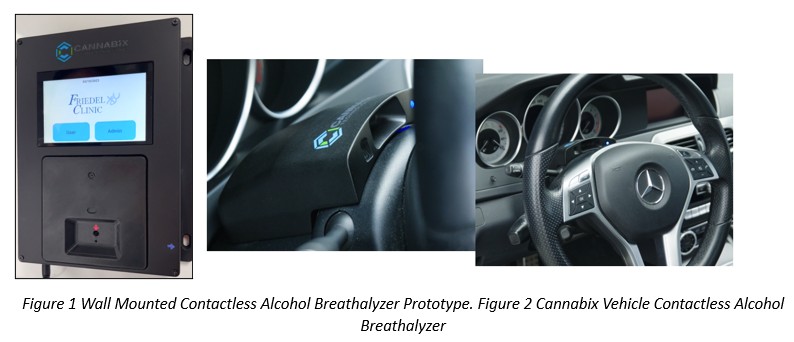 The Company has commenced discussions with electronics certification companies in Canada and Germany to develop a certification plan and prepare for standards testing (for alcohol devices). The Company is also rapidly developing plans for this product for the United States and Canadian markets.
CAB Features
Company engineers have been developing a robust feature set for the CAB that includes contactless and direct breath testing, photo identity confirmation, time and attendance features. A live data management portal for managers seeking real-time Blood Alcohol Content (BAC) results via the text and email has been developed. This data management system uses best in class Amazon Web Services (AWS) for its cloud-based infrastructure and security.
CAB Calibration, Sensor Array and AI
Cannabix engineers have developed a pre-calibrated modular cartridge that will allow organizations to quickly and easily maintain their CAB devices. Furthermore, it will allow for distributors of the CAB an efficient way to support devices in the field. The wall mounted CAB would act as a primary "touch point" for employees on a routine basis to submit breath samples as they enter their place of work. Breath and other information captured with the device will provide a rich set of data to employers for occupational health, safety, personal and human resource purposes. Cannabix engineers are also working on ways to boost value by incorporating multiple sensory cartridges as well as new AI algorithms to provide meaningful data to both users and administrators, including adding sensors for ∆9-tetrahydrocannabinol (THC).
Rav Mlait, CEO of Cannabix stated, "We are very excited to move forward with certification efforts for the Contactless Alcohol Breathalyzer. We have moved our device development to a common technology platform with similar chipsets, hardware components and software for both marijuana and alcohol screening devices. This includes our handheld Breath Collection Unit (BCU) for THC, THC Breath Analyzer (THCBA) and Contactless Alcohol Breathalyzer (CAB). This strategy will allow us to better scale and streamline our development. Furthermore, our use of AI algorithms across this platform is quickly broadening our capabilities."
Vehicle Alcohol Breath Screening
The Company initially developed its CAB technology in response to interest in new vehicle alcohol detection technologies. Recently on April 20, 2023 Mothers Against Drunk Driving (MADD) highlighted a new report published in the Journal of the American Medical Association (JAMA) that shows strong public support for equipping all new cars with impaired driving prevention technology, as mandated in the 2021 Bipartisan Infrastructure Law (2). In November 2021, the U.S. House of Representatives, passed the Infrastructure Investment and Jobs Act (IIJA) which called for new cars to come equipped with technology that will detect alcohol in breath. The legislation directed the National Highway Traffic Safety Administration to set new safety standards within three years for impaired driving safety equipment on all new vehicles (3) (4).
The Vehicle CAB technology developed by Cannabix allows for a driver to direct a breath sample towards a small orifice integrated into a device behind the steering wheel for in-cabin vehicle use – in a completely contactless manner. The CAB is fundamentally different than existing alcohol breathalyzers and interlock systems that require users to use a mouthpiece or straw and directly blow into a handheld device that is connected to the vehicle usually with a cable. The Cannabix CAB could be integrated into various locations in the vehicle cabin. The CAB provides a warning, pass or fail result along with a Blood Alcohol Content (BAC) level on the screen for the driver to see. This kind of technology holds potential to be integrated with interlock systems and be used in various settings including automotive, heavy-duty equipment, heavy transport vehicles, watercraft and motorbikes. The Company is actively seeking a partner to advance this technology.
Readers are advised that, although the Company has achieved proof of concept prototype for the CAB, the testing method and device is still in the preapproval stage and accordingly the Company is not currently making any express or implied claims that the technology will proceed to commercial use.
(1) https://ohsonline.com/Articles/2022/10/01/Alcohol-Is-Still.aspx?Page=1
(2) https://madd.org/press-release/new-jama/
(3) https://www.iihs.org/news/detail/alcohol-detection-systems-could-prevent-more-than-a-fourth-of-u-s-road-fatalities
(4) https://www.madd.org/press-release/auto-technology-that-stops-drunk-driving-now-required-by-law
Disclaimer: 
The information in these press releases is historical in nature, has not been updated, and is current only to the date indicated in the particular press release. This information may no longer be accurate and therefore you should not rely on the information contained in these press releases. To the extent permitted by law, Cannabix Technologies Inc. and its employees, agents and consultants exclude all liability for any loss or damage arising from the use of, or reliance on, any such information, whether or not caused by any negligent act or omission.